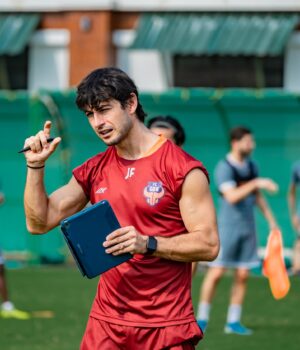 PANAJI: FC Goa will be keen to right the wrongs from previous games as they get ready to take on Al Rayyan for the second time in the AFC Champions League 2021 on Monday night. The kick-off is at 10:30 PM IST.
The Gaurs, who were beaten 4-0 by Persepolis FC in their last encounter, had managed to fight out a 0-0 draw against Al Rayyan when the two sides last met.
For FC Goa, a promising start to the Champions League has been hit by a combination of suspensions, injuries and back to back defeats.
Following two draws to start off, two defeats against Persepolis FC have delivered a body blow to the Gaurs' hopes of qualifying from Group E, but there is still hope that the hosts will be able to end their ACL journey on a high.
"Over 20 days, we have injuries and there is fatigue but it's very important to have a plan and do our best in the next two games," said head coach Juan Ferrando in the build up to the game.
Naveen Kumar's inclusion in the previous game against Persepolis raised eyebrows, but coach Ferrando has admitted that he will make changes if plans are not working.
"Starting with (goalkeeper) Naveen Kumar against Persepolis was purely tactical. We have our own plans and if it's not working, we will make the changes.
"It is important to review the previous match in an effort to improve ourselves. It is not like we are stuck at a level and feel we can't perform. On the contrary, we are making changes to tactics to improve."
Discussing the challenge of Al Rayyan, Ferrando also highlighted that this could be an even tougher game.
"Al Rayyan know this is an important match for both teams. They will have some new players on the field but for sure it will be a different match. We will work hard to get a positive result."
Despite the numerous changes from their last game, the Men in Orange could welcome back to the starting lineup captain Edu Bedia from suspension if he is passed fit, while players such as Brandon Fernandes, Glan Martins, Dheeraj Singh and Jorge Ortiz are all expected to return after a rest in the previous match.
Al Rayyan are rock bottom of Group E following three defeats and a draw in their four AFC Champions League matches thus far. Much was expected from the side coached by France legend and World Cup-winning defender Laurent Blanc, but so far, they have flattered to deceive.
Despite the disappointment however, the Frenchman believes his side do have enough to beat FC Goa this time around.
"Yes it's true we are out of the competition but we're still not finished here," said Blanc ahead of the game.
"We will be motivated to perform our best against FC Goa tomorrow, not only for this club but also for Qatar."
Blanc also complimented Goa's defensive prowess in the tournament so far, while admitting his side haven't been at their best yet.
"We need to win and although we have not performed up to expectations. We will strive to get the result. It will be a difficult game against FC Goa because they are very organised."
In players such as Yacine Brahimi, Yohan Boli and Shojae Khalilzadeh, the Qatari giants definitely have the firepower to do damage, but need these big names to start firing if they are to take home some pride from their Champions League journey.
This may end up being one of the most exciting games of Group E from a fan's perspective since both sides need a win to really get their campaign going.
After playing out a draw last time out, it is clear that there isn't much to separate both teams, and a mix of tactical expertise and individual brilliance could go a long way in deciding who ends up with the much needed three points.