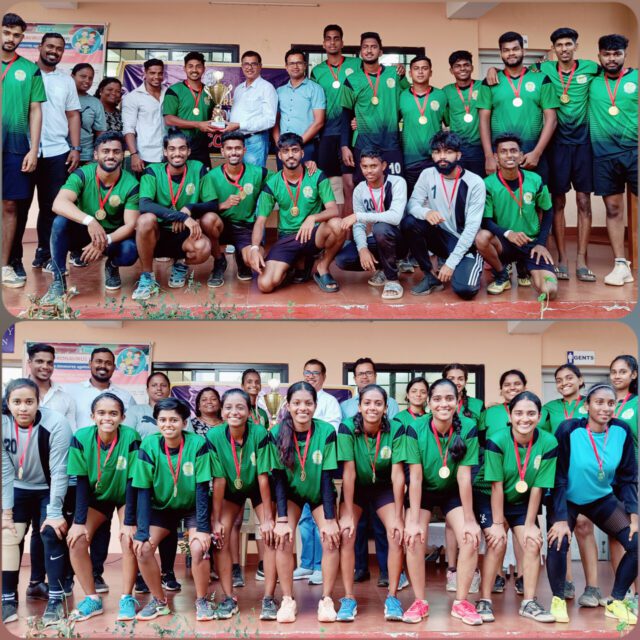 St. Xavier's College, Mapusa won both the Men and Women Handball Championship 2022-23, organised by Goa University at Goa University Ground, Taleigao-Goa held from 13th to 17th February, 2023.
In the men's championship finals, St. Xavier's College defeated VVM's Shree Damodar College of Commerce and Economics, Margao with a final score 24-20.
In the well contested women's championship finals, St. Xavier's College defeated Rosary College of Commerce and Arts, Navelim with a narrow margin of one goal that is 4-3.
Earlier in the semifinals of the Women's Section, Rosary College defeated Government College of Arts, Science and Commerce, Sanquelim 7-1 and St. Xavier's College defeated Shree Damodar College 7-1.
In the Men's semifinals, Shree Damodar College defeated Dhempe College of Arts & Science, Miramar 12-10. And St. Xavier's College defeated Don Bosco College, Panjim 16-15.
In total, 27 men's and 19 women's teams participated in the five days Inter College Handball Championship.
Dr. Sandesh B. Desai, University Librarian at Goa University, was the chief guest and presented medals and trophies to the winners and runners-up teams.
St. Xavier's College Women's team: Brinela Fernandes, Richa Gawade, Santoshi Nagekar, Pranjali Satardekar, Wianna Fernandes, Pallavi B Chodankar, Yukta Mahato, Anoshka D'souza, Keziah Barretto, Flavina Rodrigues, Brigitte Albuquerque, Pushpa Parab, Pranjali Satardekar, Roseann Fernandes, Namita Govekar and Veena Naik
St. Xavier's College Men Team: Jonathan Pereira, Luis Rodrigues, Nathan Claver D'souza, Jaden Vas, Ritesh Sangelkar, Stephen D'silva, Ashok Satardekar, Joshua Desouza, Valerius Anthony Fernandes, Utkarsh Kaskar, Clary Britto, John D'souza, Sohan Naik, Velroy Joe, Rocky Fernandes, Royston Araujo and Brendon Dcosta.