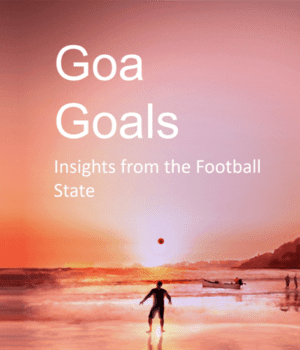 PANAJI: 'Goa Goals' a collection of articles written by Sukhvinder Singh, director of Singh Sports Ventures and Indian football expert, is on sale with the e-Book now available on Amazon.
According to the author Sukhvinder, who has formerly been CEO of FC Goa and Vedanta Sesa FA, the articles are a "travel van through the inherent Goan love for the sport, promising an exciting future that is taking shape as the state and other significant stakeholders pursue greater national fame in football through steady and planned development processes."
"This book is a tribute to Goa which I call my home now. It's also the appreciation of the passion that the citizens of the state have for the 'beautiful game'. 'Goa Goals' had its own journey over the years as I kept penning my thoughts and sentiments about Goan Football while I lived the adventure of the Goan life. The chapters are based on my column in 'Herald Goa', one of the largest circulated publication in the coastal state. The chapters are set in time when they were written and I find it important to mention the timeline along with every chapter to set the context clearly. I have been very fortunate to have lived my passion which turned into my profession as well. The same passion connected me to Goa while I lived miles away from the enchanting abundance of nature and probably a kind of paradise. 'Goa Goals' is a sincere attempt to glorify Goa in entirety and provide the readers worldwide information on its football culture at a deeper level," says Sukhvinder.
'Goa Goals' is foreworded by Arjuna-awardee Indian football legend Brahmanand Shankhwalkar. "The footballing lens through which this book has been written has point of views from inside as well as outside Goa. This is something that makes this book unique," says the legendary Goan goalkeeper and the current chairman of Goa Football Development Council.
The e-Book is available on Amazon and is priced at Rs.199 – https://www.amazon.in/Goa-Goals-Insights-Football-State-ebook/dp/B097N7JHCG/ref=sr_1_1?dchild=1&keywords=goa+goals&qid=1624691850&sr=8-1