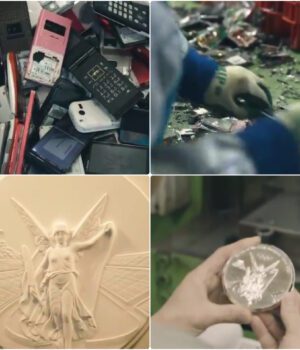 PANAJI: Japan's prowess in the field of technology, is globally acknowledged. And now with the Tokyo 2020 Olympic Games, the Asian giant is geared up to showcase its culture and charm to the rest of the world.  A wonderful confluence of Japan's might is displayed in the gold, silver and bronze medals to be awarded to athletes at the Olympic and Paralympic Games. Under the unique, "Tokyo 2020 Medal Project", the Tokyo Organising Committee has produced the medals using 'recycled metals.'
According to the information on Olympics.com, "Tokyo 2020 Medal Project" collected small electronic devices such as used mobile phones from all over Japan. This project makes Tokyo 2020 the first in the history of the Olympic and Paralympic Games to involve citizens in the production of medals, and to manufacture the medals using recycled metals. Approximately 5,000 medals have been produced from small electronic devices that were contributed by people all over Japan. "We hope that our project to recycle small consumer electronics and our efforts to contribute to an environmentally friendly, sustainable society will become a legacy of the Tokyo 2020 Games," says a statement on Olympics.com.
A medal design competition saw the public submit design ideas for the medals. This way, the entire host country was involved in the production of the medals.
Displaying the processes, #Tokyo2020 tweet has posted the following video of the making of the medals.
"The #Tokyo2020 Medal Project aims towards an innovative future for the world. From April 2017 to March 2019, small electronic devices including mobile phones were collected to produce the Olympic and Paralympic medals," it said.