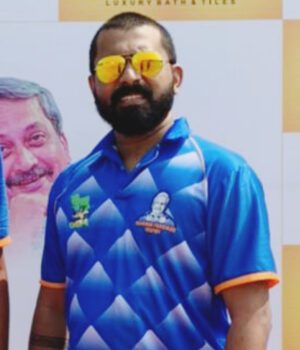 PORVORIM: Enthusiasm drives the pursuit of excellence, in all walks of life! As such, one can look for exciting brand of cricket at the ongoing inaugural edition of Manohar Parrikar Trophy T20 with the cream of talented cricketers from the state slugging it out at GCA academy ground, here. And one of the sponsors for this high-voltage tournament, 'Umang' which means enthusiasm, takes pride in their association with Yuva de Goa's massive project.
Digital media partners for the Manohar Parrikar Trophy, livenewsgoa.com caught up with CEO and Co-founder of Umang, Mangirish Salelkar early on Monday morning as Umang-backed 'Super Sixers' took the field to clash with a star-studded KhorlimXI.
"It's a pride to be associated with Manohar Parrikar Trophy T20 Cricket Tournament. The 'Super Sixers' team is an awesome handpicked team with a mix of young and seasoned cricketers," asserts Mangirish, who is also the founder president of Goa Technology Association. "All the matches so far have been excellent and we have seen some great cricket. May the best team win," he added.
Headquartered in Margao (South Goa), Umang is an award-winning company and has an overseas office in the Silicon Valley. "With a team of young and energetic tech-engineers, this 100% export-oriented unit, Umang aims to conquer the world with its technical services and support," stated Mangirish as the chat drifted into the aspect of pursuit of excellence whether in cricket or the business sector.
Mangirish is one of the founding members of Yuva de Goa – a sociocultural organisation. "Umang has always been a part of Yuva De Goa's initiatives. However, for the first time we have been a part of this unique project of a mega cricket tournament. Umang's corporate social responsibility is all about creating a unique combination between technology and sports," remarked the 36-year-old.
"Enthusiasm is what drives the mankind.
We at Umang hope to participate in the empowerment of our clients by providing scalable and durable solutions," quipped Manguirish.
With a decade of tech-experience and a full commitment to delivering expected results and quality service within timelines to clients worldwide, Umang has grown into a technology and business-savvy company that solves challenges faced by startups and enterprise businesses by providing services in Application Development, Maintenance and Re-Engineering.