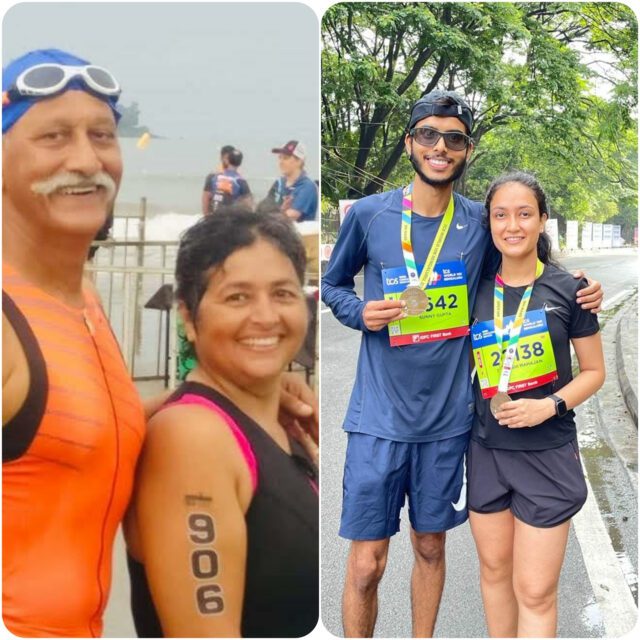 Triathlete couples will make their presence felt at the IRONMAN 70.3 Goa scheduled to be held on November 13 in Panaji.
The second edition of the IRONMAN 70.3 Goa event, which will see triathletes swim 1.9 kms, cycle 90 kms and run 21 kms back-to-back within the stipulated eight and half hours will see over 1300 participants from across India and 21 other countries taking part.
Brigadier (retd) Rajesh Joshy (59) and his wife Poonam (56) from the Harda town in Madhya Pradesh are a Triathlon couple who will be taking part in this race for the second time. The duo had successfully completed the first edition of the race in October 2019.
The couple who arrived in Goa, a good four weeks before the race day, emphasise on the importance of acclimatisation in a sport like IRONMAN. Rajesh explains, "Acclimatisation here in Goa is the key to performing well. The humidity and heat of Goa poses its challenges and these can be overcome by proper acclimatisation and practicing on the actual routes."
The couple, who is in their late 50s has no qualms about taking up this challenging sport. They said, "Endurance requires discipline, and the will to achieve the challenge. Raw strength of the younger achievers is replaced by good technique and the will to achieve."
While the Joshy couple have defied age, a younger couple from Bengaluru Sunny Gupta (28) and Devanshi Gupta (28) are excited to race in their maiden appearance this year. "I heard about IRONMAN races a couple years back, but with most races being held abroad, it was not feasible for me. But when IRONMAN 70.3 Goa was announced, my wife and I decided to sign up for it," stated Sunny Gupta, an advertising professional.
Devanshi said that she had been inspired by her husband, who encouraged her to sign up. "Sunny has been my biggest support and motivation. We have been training for the past one year and are eager to experience the race in Goa and soak up the atmosphere."