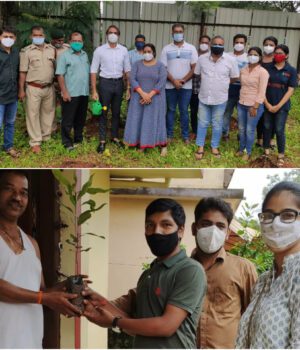 PANAJI: National Award-winning youth organisation, Yuva in association with the Forest Department, organised a 'Tree Plantation and Sapling Distribution' programme in parts of Panaji on June 26 and 27.
Members of Yuva planted over 50 saplings in and around Mala especially in the areas where soil erosion was noted. The initiative was carried out in the presence of CCP Mayor, Rohit Monserrate, Yuva advisors Shantaram Naik, Ashish Nagvekar and Sudhir Agshikar. A door-to-door campaign of sapling distribution was also undertaken. Over 200 saplings of Mango, Chiku, Jamun, Chinch, Hibiscus, Rose etc were distributed to people in Mala and surrounding areas. Corporator of Ward 18, Aditi Chopdekar was present on the occasion.
Raghuvir Mahale, Founder of Yuva; secretary Akhil Prabhu Verlekar, treasurer Shashank Sukhthankar; ladies representative Diksha Shetye, Sarvesh Shetye, Ravish Shetye, Manjit Pednekar, Maitheli Pednekar, Saiccha Naik Bandiwadekar, Prasad Kholkar, Manavi Chandelkar were present.