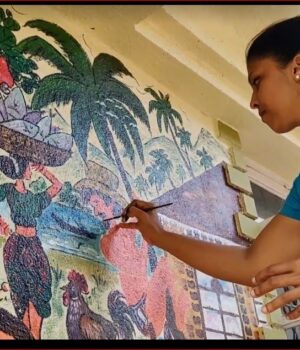 PANAJI: One can do a lot in a lifetime if one has the ability to learn and enthusiasm to keep at it despite the circumstances. Deborah Alrea Dias from Margao, is an epitome of how one can be the best version of themselves across various fields.
An art teacher at Manovikas English Medium School, Deborah is a versatile artist as well as a gold medal-winning sportsperson.

"I got my artistic talent from my mother Ruby Dias, who used to stitch then and I would take her fabric marking chalks and start sketching. I studied at St Mary's of The Angels Convent School (Chinchinim) and used to be a regular participant in most of the co-curricular competitions like singing, art-craft, rangoli, dance, acting in school as well as inter-schools and would win one of the podium places," revealed Deborah to www.livenewsgoa.com.
Usually, people tend to choose an art form in any given category of visual or performing art, to concentrate on that but not Deborah. "It was difficult for me to choose an art I could give priority to… My teachers encouraged me a lot," says Deborah, who did her higher secondary schooling in Commercial Garment Designing Making (CGDM) and followed it up with BFA degree from Goa College of Art, Altinho-Panaji.
Deborah is an expert in painting murals. One of the most dynamic avenue in visual art, murals are a captivating sight due to the sheer size and the dazzling variety of colours, shades and styles the art is laid out on the wall or ceiling.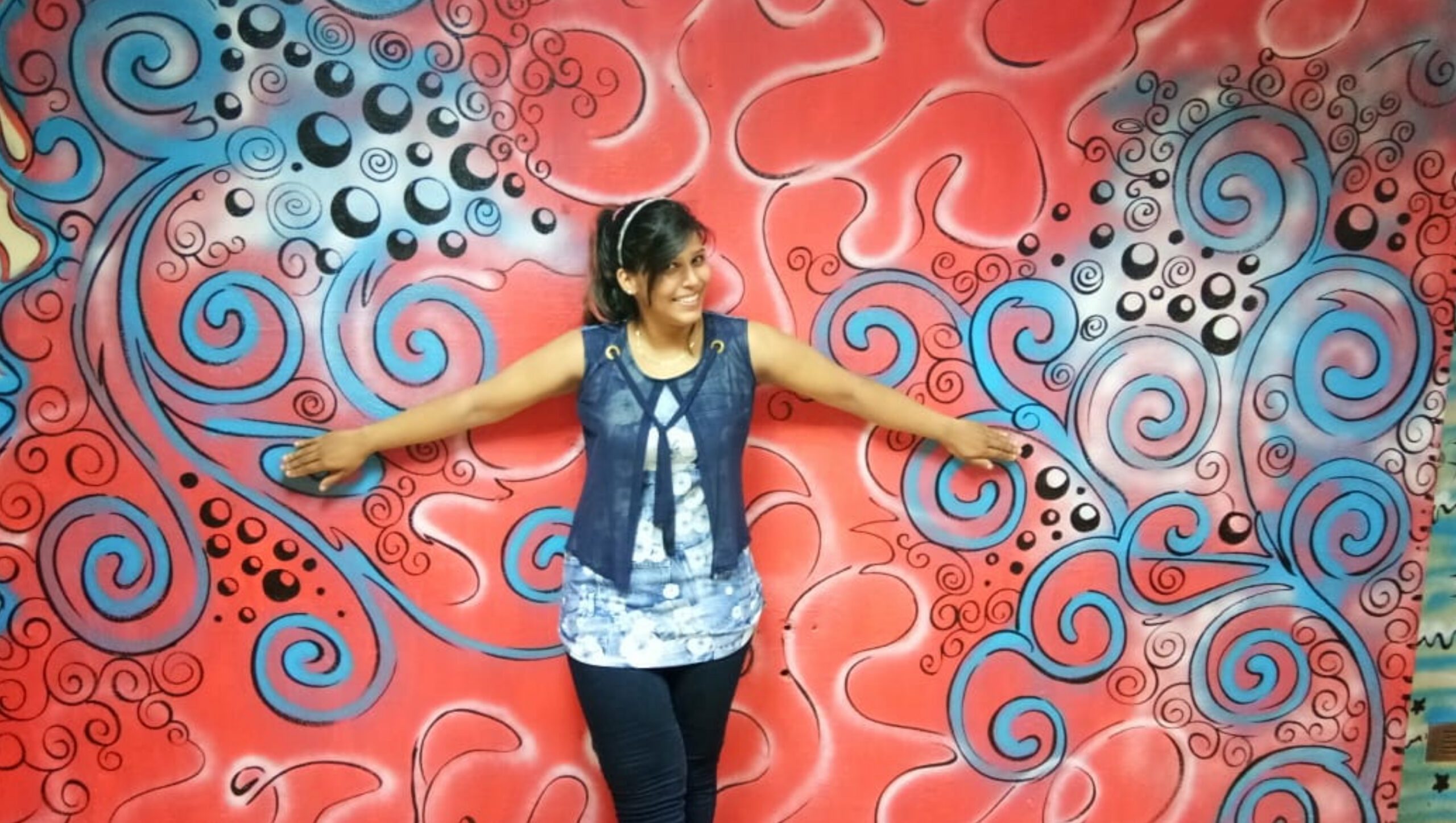 "Specialising in murals gave me good exopsure to different materials and styles like terracotta, ceramics, sculpting, mosaics, wall-painting etc. My experience of window glass painting and canvas paintings also helped. So painting a wall, was by then easy and handling a vertical surface was not that difficult as it would be," explained Deborah.
Having a knack for glass painting, face painting, nail art and craft; Deborah has progressed across various challenges with great determination.

"Nothing is easy initially as you have to be prepared for different surfaces and every painting is a different experience. Sometimes, things would go wrong here and there; but that would again add to my experience," comes the quick reply to sum up her journey in the visual art medium that saw her make a humble start.

"I enjoyed learning art in the college. Art supplies were however, very expensive and every year the rates would go higher. My brother was the only earning member in my family. So, things were not easy. I got inspired by two of my college mates Andre D'Souza and Alvito D'Costa, who would do part-time painting during festivals and decoration for events. I started window painting during festive seasons in my first year just to get in some pocket money. Initially it was difficult to find a gig as I would get rejected for being a female and painting on streets did not go down well. That was the mindset of people then. I was even being criticised by people around me," says Deborah looking back and draws tremendous satisfaction from her courage to do what she loved and turn her passion into profession.
"I don't have to search for one today, but at times have to say no to clients because of time managment issues," asserts Deborah, who is a single mother juggling with her duties. "I am also proud that I have been an inspiration to others too and many today have started painting the same (glass painting etc) ."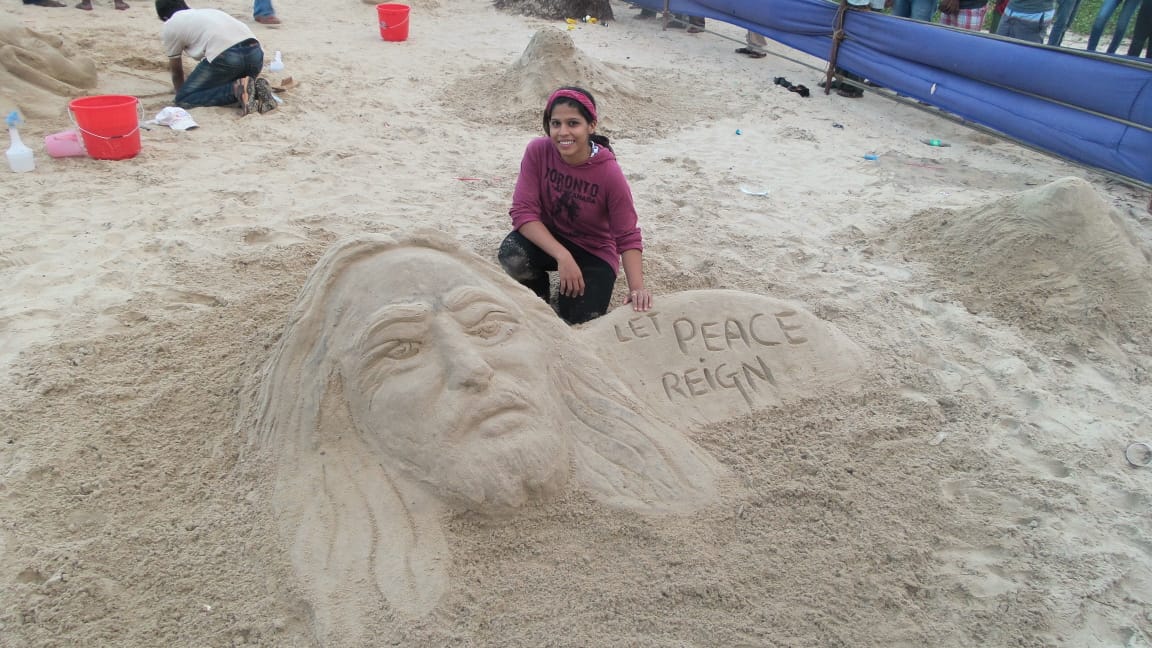 Apart from hand-crafting succulent candles, queeling, paper etc, Deborah has also indulged in sand art under the guidance of international artist Sudam Pradhan.
Over in performing arts – Deborah has sung for Konkani albums, is a member of 'Aquemchim Surgam' folk troupe, while she has also completed Trinity international examination board Grade 1 theory of music. She has acted in tiatrs and Konkani movie too.
Deborah, who is a renowned bikini fitness athlete, also loved sports since her school days and participated in shot-put, javelin, discus-throw among others. And one of the greatest life skills from the playground – 'perseverance to keep fighting' – has enabled Deborah to keep moving forward.
"All went well until I had a broken marriage, things fell a bit apart. Being a single mother was not easy, I went through a lot of difficulties. However, thanks to god and my mother who always supported me during these times. I did not give up and overcame anxiety by keeping myself more busy. I worked even more and also took to gyming," recounts Deborah, looking back at the downs in her life. "My mother took care of my daughter who was just 2 years old then while I was busy at work. My love for them never allowed me to stop working nor give up," she added.
"With the support from my fitness coach Govind Lotlikar; support from Khushali Virdikar, Viola Rodrigues, Ashish Shirodkar and Priyanka Naik; I participated in a bodybuilding competition bikini category at IFBB Diamond Cup and won gold in my category in 2018," stressed Deborah, who gets great support from Manovikas English Medium School management, in what was a perfect fightback in life to transform herself into a steely personality. She is also happy that more girls love this sport and are giving it a try nowdays.
Hugely inspiring with her inclination towards arts and sports, Deborah is a teacher not just to her school students but also to the society. "When it's time to select or choose a career, youngsters nowadays forget everything and give up on what they actually love. And after that, they give up on their talents thinking they are settled and there is no use of these qualities," she observes. "It's best to do what you love because you never know where it will lead you to and nothing is better then turning your talent and hobbies into your career as you never get bored or tired of it and no matter what, you will succeed!", is Deborah's wonderful message.