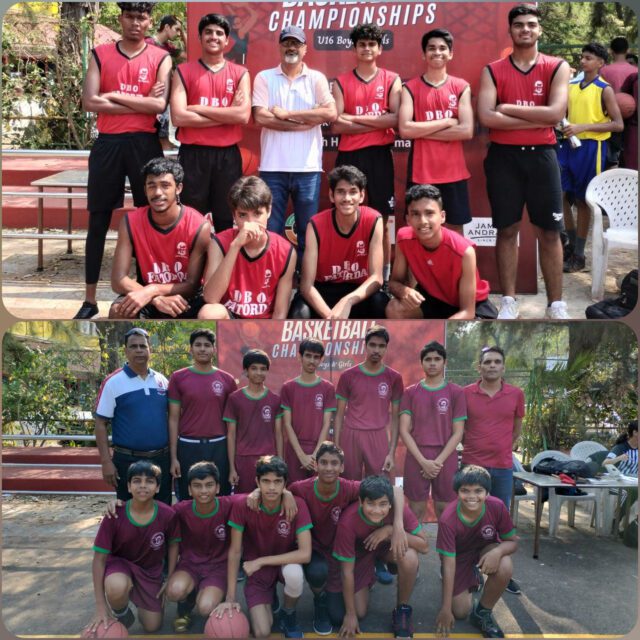 Don Bosco High School-Panaji will face DBO Fatorda in the State Youth Basketball Championship final at Youth Hostel, Miramar. The two-day event organised by Panjim Basketeers Club in collaboration with Goa Basketball Association and Youth Hostel, Miramar; witnessed exciting moments, especially in the boys quarter-finals where the outcome changed in the final second of the game.
Don Bosco school were trailing by 5 points in the final 2 minutes and by 1 point in the final few seconds. While all looked lost, Tanay Saladanha who was the pick of the Don Bosco players, snatched possession from Brittos to score the winning basket in the final second of the match, much to the disappointment of the St. Britto's team. Don Bosco won 24-23. The team's star player Tanay was awarded the MVP of the match for his brilliant and composed game while Charles Pereira was the standout player in the game for Brittos.
The semi-finals for Don Boscos, was a much easier outing which they won by a handsome 36-20 scoreline over Sonics. Manvinder Modgil and Mark Vaze excelled for the winning team while Angad Sodni fought a lone battle for Sonics. In the other semi-finals, DBO Fatorda with an all-round performance, notched up a facile 34-14 victory over Lourdes Basketball Club.
Kayden D' Silva who starred for DBO Fatorda and Xylyx Dias who impressed for Lourdes, won MVP of the game. The girls semi-finals was a largely one-sided affair, where Sharada Mandir High School notched up a 26-02 win over Saligao Hoopsters to head into the final. Sarah Hussain (14 points) was awarded the MVP of the game for her exceptional play, states a press release.