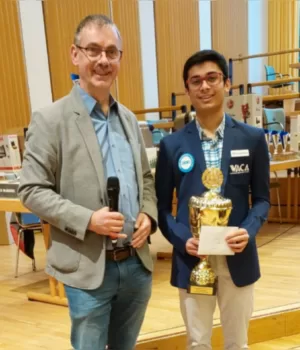 Geno Brand Ambassador GM Leon Luke
Mendonca won the 38th ChessOrg Festival 2023 in Bad Woerishofen, Germany.
Leon and GM Visakh N R scored 7.5/9 points each, remaining unbeaten in the championship. The Goan prodigy edged his rival out for the title due to a better tie-break score. Visakh had to settle for the second place. They both finished a full point ahead of the field.
Eight players scored 6.5/9 points each. Four among them, were Indians. The reigning Commonwealth 2022 Open gold-medalist, IM P Shyam Nikhil finished third, GM Iniyan P fourth, IM Nitin S seventh, and GM Vignesh N R secured ninth place based on the tie-breaks. Leon, Visakh, and Shyam created a new record by becoming the first Indians to make a podium finish at this event in its over 37 years history.
The top three prizes in Group A (>1850) were €2000, 1400, and 900 along with a trophy each respectively.
This is Leon's second consecutive podium finish of the year. His next event is the 27th Hit Open 2023 in Nova Gorica, Slovenia which starts on 16th March. Leon is slated to be the top seed of the A group. Goa Chess Ad-hoc Committee congratulates Grandmaster Leon Mendonca on this splendid victory and wishes him all the very best in the future.