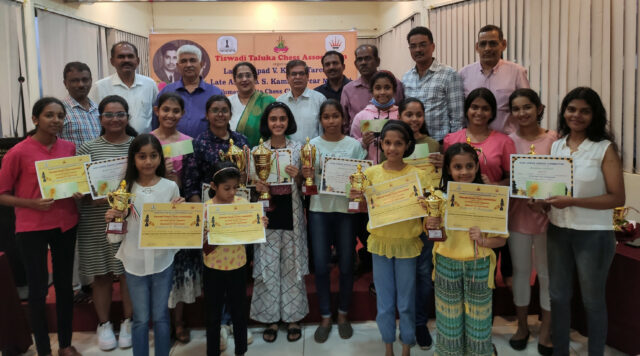 PANAJI: Netra Savaikar won the Late Shripad & Anusuya Kamat Tarcar Memorial Women's Chess Championship 2022 organised by Tiswadi Taluka Chess Association at Mahalaxmi Vachan Mandir Hall-Mala, here recently.
Netra scored 5.5 points from 6 rounds with 5 wins and 1 draw. She scored a fantastic victory over Asmita Ray, who had collected 5 out of 5 points by defeating WCM Swera Braganca in the 5th round. Asmita finished runner-up while Sayuri Naik with 5 points, finished third.
The other prize-winners from 4th to 10th places are Sanskriti Naroji, WCM Swera Braganca, Rachel Pereira, Arya Dabolkar, Shrivalli Gandhi, Snehal Naik and Aarvi Naik.
The other category prizes (U7,U9,U11,U13, youngest and taluka) are as follows: Avani Sawaikar, Diya Sawal,Vaishnavi Parab, Valanka Fernades, Nilisha Facho, Gunjal Chopdekar, Alana Andrade.
The top 4 players will play at Women's Nationals to be held in Maharashtra from 8th November to 18th November 2022.
Rama Ramani, daughter of Late Shripad & Late Anusuya Kamat Tarcar, was the chief guest and distributed the prizes in the presence of Narayan Pednekar (Secretary, Mahalaxmi Vachan Mandir), Sachin Arolkar (Convenor of Goa Chess Ad-hoc Committee), Milind Ramani, Arvind Mhamal, Dattaram Pinge, Praksh Sawant, Atish Angle, Naresh Pednekar and other dignitaries.