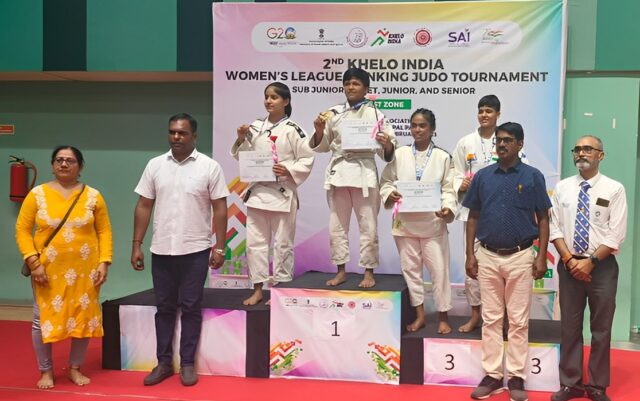 Maharashtra continued with their fine run, winning 5 gold medals, 1 silver and 3 bronze medals on action day two at the 2nd Khelo India National Women's League Ranking Judo Tournament 2023 (West Zone), at Campal, Panaji.
Gujarat stayed strong at second spot, clinching 2 golds, 4 silvers and 7 bronze medals in the cadet round of action held on Thursday. Rajasthan won 1 gold, 1 silver and 2 bronze medals to stay on track in third place while hosts Goa added a silver medal to their tally which stood at two medals at the end of day two of competitive action.
Winzia Pereira won silver in the +70kg weight category for Goa. Mithila Bhosle (-40kg, Maharashtra), Sakshi Kamble (-44, Maharashta), Bhakti Bhosale (-48kg, Maharashtra), Urmila Rajaput (-52kg, Gujarat), Samrudhi Patil (-57kg, Maharashtra), Dolly Chouhan (-63kg, Rajasthan), Rituben Vaja (-70kg, Gujarat) and Swara Bamnodkar (+70kg, Maharashtra) were the gold medal winners of the day.
Results:
-40 Kg: Gold – Bhosale, Mithila Mangesh Mah; Silver – Jyoti, Jyoti Raj; Bronze – Doli, Suthar Guj & Thakur, Priya Guj
-44 Kg: Gold – Kamble, Sakshi Mah; Silver – Mali, Khushi Guj; Bronze – Hidko, Geeta Cg & Sadiya, Hiral Guj
-48 Kg: Gold – Bhosale, Bhakti Mangesh Mah; Silver – Ranjita, Ranjita Cg; Bronze – Prashant Shitap, Shravani Mah & Shivani, Shivani Raj
-52 Kg: Gold – Rajaput, Urmila Guj; Silver – Shailey, Shailey Guj; Bronze – Budheliya, Neha Guj & Gupta, Ujala Guj
-57 Kg: Gold – Patil, Samrudhi Mah; Silver – Chaudhary, Chetna Guj; Bronze – Chauhary, Anisha Raj & Sarkar, Parvati Cg
-63 Kg: Gold – Chouhan, Dolly Singh Raj; Silver – Chougale, Amruta Suresh Mah; Bronze – Gandhawale, Shweta Sanjay Mah & Zala, Trusha Guj
-70 Kg: Gold – Vaja, Rituben Guj; Silver – Meniya, Vanita Ben Guj; Bronze – Rawal, Naviya Mah & Sane, Bhakti Guj
+70 Kg: Gold – Bamnodkar, Swarda Mah; Silver – Pereira, Winzia Goa