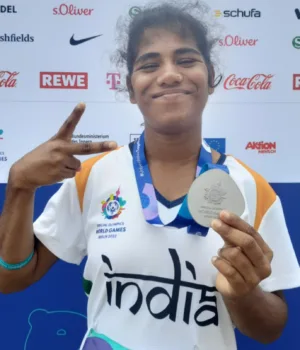 Geetanjali Nagvekar signed off Goa's medal haul as the 2023 Special Olympics Summer Games concluded in Berlin, on Sunday.
Nagvekar, who had opened India's medal account with a gold in the 800 metres, took the silver medal in the 400 metres Level C at the Athletic Track in Berlin.
The 400 metres Level C race turned out to be an engrossing affair with the first three runners in contention for the gold medal. Ultimately, India's Ravi mathi Arumugam and Triin Treier of Estonia finished with an identical time of 1:29.80 minutes to be adjudged joint-gold medal winners, while Nagvekar finished in a time of 1:30.11 to take the silver.
Participating in the two middle distance races, Nagvekar had made a strong start with a gold in the 800 metres last Monday. The 19-year-old student from the Sanjay Centre for Special Education, Porvorim, was naturally disappointed in not being able to replicate her opening day's form.
"I was confident I would win a medal, and I wanted it so much to be a second gold for myself and my country," Nagvekar related.
"No doubt, I will take the silver, but a gold medal would have been much better. Perhaps, I didn't pace myself properly," she added.
Nagvekar's effort was the final medal effort from the 13 Goan athletes who represented Team Bharat at the 2023 Special Olympics Summer Games.
"With all things considered, our athletes have shown their commitment by giving off their best during the eight days of the Games. Honestly, we could not have asked for anything more from them," Victor Vaz, National Sports Director of Special Olympics Bharat, related.
"We owe a huge debt and gratitude to everyone who has been involved in this best-ever medal haul from Goa during the Special Olympics Summer Games. We are grateful to all the coaches, the officials and especially to Don Bosco Oratory for allowing us to use their facilities for training," he added.
Four Goan players – Venson Paes, Aman Nadaf, Francis Parisapogu and Joel Rodrigues – were a part of the gold medal winning football squad. Siya Sarode picked up a couple of the yellow metal in powerlifting, while Geetanjali Nagvekar (800 metres) and Manfil Ferrao (men's basketball) accounted for the remaining two.
Sarode got a silver in powerlifting, Nagvekar bagged a silver in the 400 metres, Aayush Gadekar was part of the men's volleyball, while Taniya Usgaonkar (roller skating) and Aslam Ganjanavar (judo) were the other two silver medallists.
The five bronze medals for Goa came from Gayban Mulla (mini javelin), Usgaonkar (roller skating), Sarode (powerlifting) and the two footballers Gayatri Fatarpekar and Kajal Jadhav.
Goa's presence in Team Bharat consisted of 13 athletes and another ten officials at the 2023 Berlin Games.
Traditionally, athletes from Goa have enjoyed a fair share of medals during past editions of the Special Olympics Summer Games.
It was Anthony Colaco making a glorious start while clinching a gold in the long jump at the 1991 Minnesota Games. After that, performances of Goan athletes have been strong with six gold, 2 silver and 3 bronze at the 2003 Dublin Games, 7 gold, 2 silver and 3 bronze at the 2007 Shanghai Games followed by six gold, four silver and six bronze at the 2011 Athens edition.
Four years later, Goan athletes returned with six gold, three silver and 10 bronze from the 2015 Los Angeles Games, and then in 2019 in Abu Dhabi they returned triumphant with five gold, eight silver and 10 bronze.