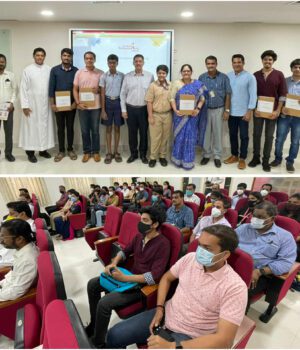 PANAJI: The Goa State innovation council (GSInC) launched the 'Innovation test', which is an initiative to measure the innovation quotient that will include 9 core innovation dimensions – namely Creative, Inventiveness, Passion, Learning, Motivation, Adapting, Risk Taking, Interpersonal, Problem solving, Technology Acumen and Curiosity.
This is the first time that GSInC has launched such a programme in collaboration with Bodhami, a National Award Winning platform; on Wednesday in the presence of GSInC Chairman, Jose Manuel Noronha.
Every applicant or student will get a 15-Pager personalised innovation report which will highlight strengths, weakness, improvement areas, innovation dimensions, improvement areas and learning courses to drive innovation and entrepreneurship for the applicant.
The innovation test can be taken by students, young innovators, entrepreneurs, faculty and professionals.
The Innovation test will help to drive a culture of innovation among the students and youth. It will encourage entrepreneurship and innovation by guiding them with right free courses around innovation and self-entrepreneurship. The innovation test will help to scientifically measure and improve Innovation Quotient and core competencies on innovation. This will help to drive innovation avenue across Goa.
The innovation test can be simply taken by clicking on the innovation test link on www.gsic.in. The applicants can directly download the innovation report which also contains learning recommendations. The applicants can take the learning courses to improve the innovation score, states a press release.