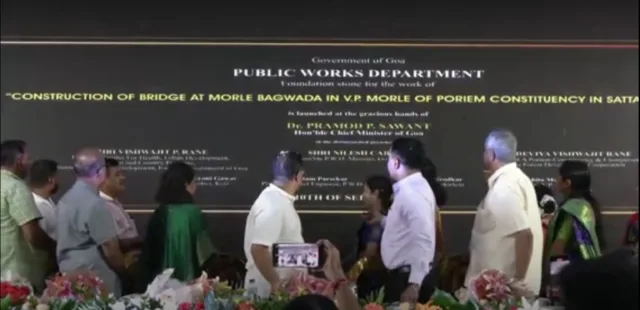 Sattari witnessed the launch of a host of developmental activities on Sunday. The projects are as follows:
•Construction of 15MLD Raw Water Pumping Station for Water Treatment Plant at Morlem Rehabilitation Colony in Sattari.
•Construction of bridge at Morle Bagwada in VP Morlem of Poriem constituency in Sattari.
•Upgradation of infrastructure in the rural areas under Deendayal Panchayat Raj infrastructure development scheme 2013 – construction of Panchayat building in Keri, Sattari.
•Conversion of 11 KV AB Cable into 11 KV underground cable of Keri feeder from VP Morlem to Keri village (Phase II) in Poriem constituency.
•Inauguration of Panchayat building at VP Honda under Deendayal Panchayat Raj infrastructure development scheme 2013.
Chief Minister Dr Pramod Sawant; Health, Urban Development and TCP Minister Vishwajit Rane, Power Minister Sudin Dhavalikar, Poriem MLA Dr Deviya Rane graced the occasion.
Dr Sawant hailed the development spree worth approximately Rs 100 Crores as a testament to efforts of first-time MLA Dr Deviya Rane. He also underlined the progress made by Goa in the villages in the form of infrastructure.
"We are creating infrastructure across villages and thus connecting villages to cities. In future, we will see the IT connect as every household will be getting the fibre connection for 5G connectivity. The Goa Model is shining across education and health sectors in particular. As such, Goa is a role model state in the country," asserted the Chief Minister.
Earlier, WRD Minister Subhash Shirodkar laid foundation stone for work of construction of 15MLD Raw Water Pumping station for water treatment plant at Molem Rehabilitation Colony to supply drinking water to VP Querim, Poriem, Moriem, Pissurlem, Honda and Bhironda.