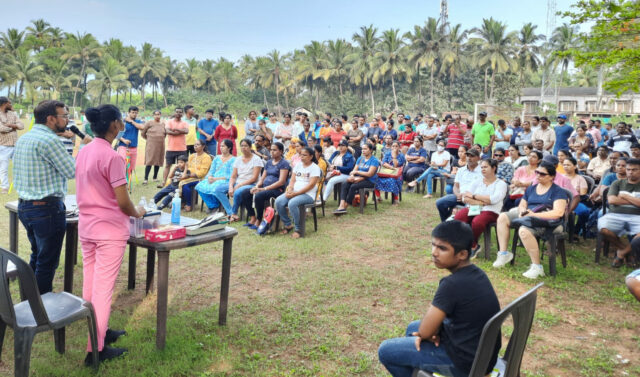 Salgaocar FC launched the 8th edition of its Community Outreach Program on Sunday 23rd October 2022 at the Chicalim Panchayat ground for children aged of 6-11 years. With an association that highly benefitted the children, SMRC took an initiative keeping in mind the healthcare of the parents. SMRC organised a free sugar and BP checkup camp for the parents, whose children played for the Community Outreach Program at Chicalim Panchayat ground on Sunday, 6th November, stated a press release.
The one-hour event started with inviting the honorary speaker, Expert Intensivist & Consulting Physician, Dr. Pradipta Bhattacharya, from SMRC's V.M Salgaocar Hospital, Vasco, Goa. Dr. Pradipta Bhattacharya opened up with a talk on general healthcare and mainly highlighted points of hypertension and diabetes for the parents. He focused on main points that cause hypertension, or better known as high blood pressure in diabetic patients; along with the complications that could worsen; from worsening eye diseases to worsening lung diseases.
Dr. Bhattacharya shared his thoughts on hypertension and diabetes saying "A combination of Diabetes and hypertension's effect is very adverse. The complications only increase if not given attention to and it is extremely essential to get an effective treatment to manage and control high blood pressure with the required force". He also explained the risk factors that come from the complications of hypertension to those suffering from diabetes.
With much knowledge shared to the parents, the event moved on to its consultation and checkup stage. SMRC's team of nurses began with the free sugar and BP checkup for the parents, followed by the consultation given by Dr. Pradipta Bhattacharya. SMRC ensured that each parent left with a proper diagnosis of their sugar and BP, along with a follow up at a later stage if and when required.
The event concluded with a thought shared by Dr. Pradipta Bhattacharya, "We always tend to neglect healthcare thinking the issue is small, or believing that our body will heal on its own. But in reality a regular checkup can not only save you from facing a bigger disease but also help you get rid of the issue before it escalates; which means you will be spending much lesser than you would to treat a riskier illness."